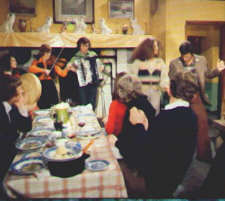 RYAN'S HOPE GOES TO IRELAND
Ireland, the home of castles and leprechauns, was the destination of the "Ryan's Hope" family when Mary Ryan Fenelli (Kate Mulgrew) and Jack Fenelli (Michael Levin) tied the knot.
The sequences were filmed in such memorable and picturesque locations as the National Falconry Center and Blarney Castle. The cast and crew traveled over the countryside and visited Dublin, Ennis and Sligo.
And a merry ole time was had by all.