Star Trek's Kate Mulgrew donates
Captain Janeway uniform to Alzheimer's Association
Uniform to be Auctioned on eBay to Raise Funds for Alzheimer's Research
May 2005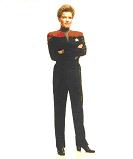 Cleveland, Ohio -- Kate Mulgrew, actress who played the role of Captain Kathryn Janeway on Star Trek: Voyager for seven years, gifted her Captain Janeway uniform to the Alzheimer's Association in honor of its 25th Anniversary and to raise funds for research efforts. The uniform will be available for auction on eBay, May 5 –12 at http://www.ebay.com/rally-for-research. All proceeds from the auction will fund Alzheimer's research through the national office of the Alzheimer's Association.
Star Trek: Voyager actress Kate Mulgrew is among the celebrities who have contributed unique packages to the online auction. Famed Star Trek costumer, Robert Blackman, designed the familiar black uniform made of wool and gabardine, with the cranberry strip across the shoulder, signifying the captain rank. The boots she wore with the costume are included in the auction.
Mulgrew replaced Genevieve Bujold in 1995 and imbued the iconic character with humanity, grace and grit in her own inimitable style. Mulgrew made history as the first female captain of a Star Trek series and with the crew of Star Trek: Voyager helped to launch the fledgling UPN television network.
Mulgrew is all too familiar with Alzheimer's – her mother, Joan, suffers from the disease. "I have learned first-hand the debilitating effects Alzheimer's has on its victims and their families," said Mulgrew, who is a member of the Alzheimer's Association National Advisory Council. As a long-time fundraiser and advocate for the Alzheimer's Association as well as a national spokesperson for the organization, Mulgrew has initiated and actively participated in fundraising events for the Alzheimer's Association. "Making my Captain Janeway uniform part of the 'Rally for Research' will help raise money for research and create a world without Alzheimer's."
Kate Mulgrew and husband, Tim Hagan, Cuyahoga County Commissioner, are serving as Honorary Co-Chairs of the 25th Anniversary Gala, on Saturday, May 21, at the Renaissance Cleveland Hotel. The Corporate Committee Chair is Tom Stevens of Key Bank. Gala Committee Co-Chairs are Nancy Rodeno, Pat Schraff and Chris Stevens. Proceeds from the Gala will provide care and support for families affected by Alzheimer's disease throughout Northeast Ohio.
Founded in1980 by Dr. Joseph M. Foley and Arlene Ellis Friedman, the Cleveland Area Chapter is the primary source of information and support for individuals and their families in Northeast Ohio, who are living with Alzheimer's disease or related dementias. There are approximately 50,000 individuals affected by the disease and another 150,000 family members.
The Alzheimer's Association Cleveland Area Chapter offers a broad range of programs and services for individuals with memory loss, their families, and caregivers throughout Ashtabula, Cuyahoga, Geauga, Lake and Lorain counties. The Association also represents the interests of individuals and caregivers on Alzheimer-related issues before federal, state, and local government.
For more information, contact the Alzheimer's Association Cleveland Area Chapter, 12200 Fairhill Road, Cleveland, Ohio 44120 or visit www.alzclv.org.